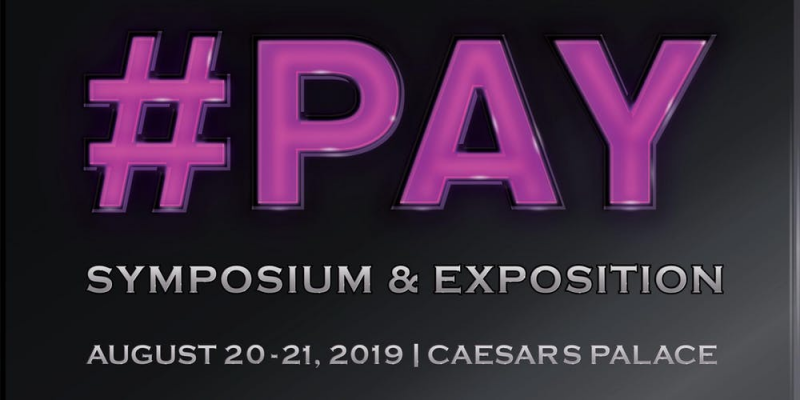 Event Details
#PAY Symposium & Exposition will take place August 20 - 21, 2019, with events being staged at Caesars Palace, Las Vegas. The Mandalay Group expects more than 2,200 professionals representing a wide range of industry sectors, to be in attendance at #PAY Symposium & Exposition. With 90+ Exhibitors, 60+ Speakers and over 50,000 square feet of conference and exhibition space, this promises to be a groundbreaking event for the entire payments industry.

Over the past ten years, Fintech has established itself as a fundamental part of the global financial services ecosystem. #PAY will spotlight the enormous disruption Fintech confronts the payments industry with.

The Next Decade of Payments is the theme of the 2019 event, #PAY will include sessions on the key topics of Digital Disruption, Augmented & Virtual Reality, Artificial Intelligence, Decentralization, Internet of Things, Invisible Payments, Open Banking and the Impact of 5G Mobility.

Emerging Fintechs will be featured in a Startup Showcase spotlighting new entrants from across the globe who are disrupting financial services. Finalists will battle it out to see who wins the Golden Hashtag Award.

CALL FOR PAPERS

The Mandalay Group has also issued a Call for Papers for the 2019 event. #PAY is currently accepting proposals and abstracts for conference sessions, keynotes, workshops, roundtables, panels and exhibition floor theaters. Both executives and entrepreneurs are encouraged to submit their papers for consideration.

COLLABORATION WITH INDUSTRY EVENT PARTNER

The Mandalay Group also announced that it has collocated the #PAY Symposium with The Prepaid Expo, now in its 12th year, focused on the development and distribution of prepaid products and services.

This hybrid partnership provides a platform and networking opportunities for the entirety of payments industry. #PAY Symposium & Exposition will examine the complete spectrum and evolution of payments from prepaid to blockchain and beyond.
Event Location
Venue:
Caesars Palace
Address:
3570 S Las Vegas Blvd Las Vegas, NV, 89109, United States