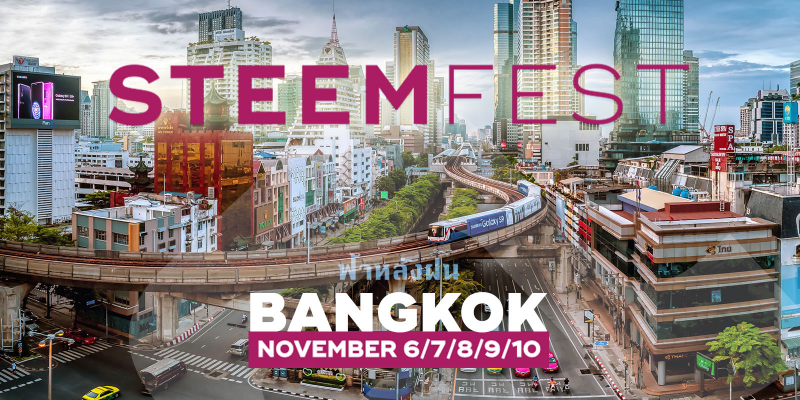 Event Details
"Enjoy, meet and learn with movers and shakers of the social media blockchain ecosystem of Steem. Come to SteemFest for the diversity of the Steem blockchain, introduced through the 2 day conference and social events scattered across several locations in the city home to an exorbitant amount of sights, temples, great food, bizarre diversity, vastness, nightlife and you!?

SteemFest attracts a diverse selection of attendees varying from Steem bloggers to ecosystem developers as well as the Steemit, Inc, core blockchain team.

SteemFest is the annual gathering for Steem users and it's ecosystem. It is a reunion x conference x citytrip. People from over 60 different countries attended past 3 SteemFest events.

The full program consists of two conference days, multiple social events, tourist explorations and to top it off a closing dinner on Sunday 10 November. After the conference week, consider steeming-off on one of the beautiful Thai islands.

Steem is the 3 second confirmation time, dpos based, social blockchain with an active development and chainstate of 3.5 years. It is originally developed for social media publishing such as blogging, music & arts distribution, video posting but has attracted several blockchain based games thanks to its fast confirmation time. "
Event Location
Venue:
Multiple Venues, Bangkok
Address:
488/800 BoBae Tower Damrongrak Road, Thailand