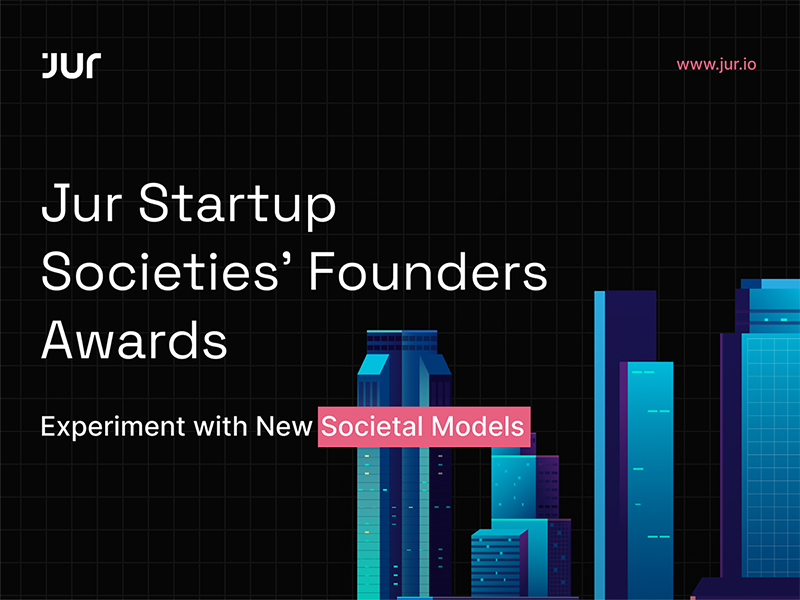 Jur, the upcoming Polkadot parachain building the DAO 2.0 stack, invites founders to pitch their Startup Society ideas to notable figures from Web3, including Tim Draper (Draper Associates), Ed Hesse (Energy Web), and Trent McConaghy (Ocean Protocol) for a chance to win a share of the USD 10,000 grand prize, along with the opportunity to launch their Startup Society through a dedicated grant program.
Unlike DAOs, Startup Societies are flexible founder-led forms of congregations that are value-based to let communities aggregate easily around a shared purpose. With its' DAO 2.0 stack, Jur aims to kick off the 1-click Country ecosystem to build the future of governance, enabling Web3 communities with interoperability, growth, experimentation, and evolution into network states.
Jur invites existing online community builders, influencers, DAOs, and innovators to participate in the first cohort of the Startup Society Founders Awards. The Awards will provide a platform for founders to experiment with new societal models and offer USD 2,000 and 1,000 $JUR each to the top five Startup Society proposals.
Web3 technologies are changing the way we think about community and governance. Jur founder Alessandro Palombo states, "Jur believes that Web3 requires simpler structures to enable community building and governance. That's why we are developing an ecosystem to support Startup Societies, designed to be Web3-native communities based on shared values and simple, consensus-based decision-making. In addition, with the Startup Society Founders Awards launch, we want to encourage further innovation and experimentation in this space."
To keep the process decentralized and transparent, the evaluation process to shortlist the top 10 proposals, will be undertaken by Jur community volunteers, along with a panel of experienced advisors including Zane Austen from Balaji's team at The Network State and QJ, Executive Director of the ETH Community Fund, amongst others. The Jur team and advisors will refine the shortlisted proposals to be presented to the judges, Tim Draper, Ed Hesse, and Trent McConaghy, who will select the five winners to present their ideas live on Demo Day.
"Startup Societies offer an exciting new way for people to come together and work towards a shared purpose," says Ed Hess, Energy Web's founder and one of the judges for the award. He adds, "Jur is building the tools and infrastructure needed to power the next generation of Web3 native communities. I'm excited to be part of the Jur Startup Society Founders Awards and see the innovative proposals presented."
The deadline to submit your proposal is 31st March 2023. Take advantage of this opportunity to be a part of the next generation of Web3 Startups Society founders. Apply now!
About Jur
Jur is building the future of governance with a stack for powering new forms of Web3 native communities. Jur tools will facilitate creating and managing new opt-in digital-first Startup Societies that may evolve into Network States.
PRESS CONTACT:
Sonia Kapoor
Marketing Manager, Jur
sonia@jur.io
---