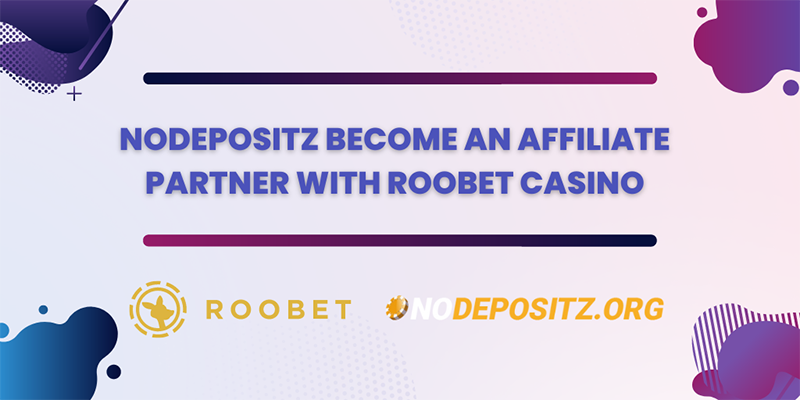 NoDepositz, an unbiased reviewer of cryptocurrency casino sites with no deposit bonus codes and other promotions, has become an affiliate partner with Roobet Casino. As a result of this cooperation, NoDepositz readers will acquire reliable information about Roobet casino and its functioning, while Roobet Casino fans can find valid promo codes to increase their gambling time and boost winning opportunities. The best casino gaming software games will be reviewed; platform experts will draw parallels between Roobet and other crypto casinos, as well as share the latest news that casino fans should be aware of.
The cooperation promises to be beneficial in all respects. NoDepositz will expand the range of casinos reviewed and enrich the base of the article, Roobet will get an even wider audience and customer base, and NoDepositz readers will be consistently up to date with the latest information about the gambling site.
In this day of the gambling market flourishing (see the statistics for 2022 here), new partnerships between the industry segments are crucial. NoDepositz and Roobet Casino share a common focus: to provide users with reliable information and quality services. In this regard, this collaboration is guaranteed to be successful.
About NoDepositz
NoDepositz is an independent platform dedicated to providing virtual gamblers with undiluted and unbiased reviews of industry-leading online casinos. The company employs a large staff of experts who know all intricacies of the gambling world, clearly see the difference between a legitimate and trustworthy casino and a fraudulent site, and share exclusively verified information with NoDepositz readers.
In addition, the company receives and displays promotional codes and information about the most generous bonuses of the casinos in question directly from the first sources. As a result, NoDepositz website visitors can always find valid codes. For more information about the platform and its operation, visit the company's official website.
About Roobet
Roobet is a state-of-the-art, exclusive cryptocurrency casino that allows using Bitcoin, Ethereum, and other cryptocurrencies while enabling its users to buy crypto with Visa, MasterCard, Apple Pay, or Google Pay right on the platform. All kinds of games abound at this casino, with well-known brands sharing the stage with innovative, provably fair games.
Roobet belongs to Raw Entertainment B.V., a legitimate and trustworthy brand licensed by the Government of Curacao. The license, provision of blockchain-based gambling (see how blockchain enables online gambling to be secure), and the 256-bit encryption make Roobet a worthy choice for NoDepozits users. That's why the company undertook the affiliate partnership with Roobet - to give its readers the opportunity to enjoy premium gambling on privileged terms with great bonuses and promotions. For more information about Roobet and its offers, visit the gambling website.
Conclusion
NoDepositz encourages interested readers to expect new articles about Roobet online casino regularly. While on the site, readers can freely access a library of information pertaining to how worthy the Roobet virtual casino is, the major differences between the casino and other crypto gambling sites, and other essential aspects. Furthermore, valid promo codes for new and regular users will be presented upon release. Staying up to date with NoDepositz publications means being constantly aware of the latest gambling news and great offers.
---