Pros
Allows US customers
Low fees
Can add funds using fiat
Verification is not required
Mobile apps for iOS and Android
Cons
Doesn't offer many cryptocoins
Registration is required
What is CoinBase?
Based in San Francisco, California, Coinbase was founded in June 2012. It is a currency exchange service where both customers and merchants can exchange digital currencies such as bitcoin, litecoin and ethereum. They have over 10.6 million users in thirty two countries. There are over 47,000 merchants using the exchange service. They raised $117 million from investors and have exchanged over $20 billion in digital currencies.
Currencies Offered
Coinbase allows you to buy, sell, deposit and withdraw in three digital currencies. Bitcoin, litecoin and ethereum. There are plans to offer Bitcoin Cash, check back here for updates on this.
Account funding
For US customers, you can add funds to your account via bank transfers, credit cards, debit cards and bank wire. For European customers, you can use credit or debit cards, as well as bank transfer via SEPA. For customers in the UK, the same options as the European customers apply, credit or debit cards, or bank transfer via SEPA. For Australian and Canadian customers, credit or debit cards are accepted. For customers in Singapore, bank transfers (via 3rd party) and credit and debit cards are available.
Security
All currency held with Coinbase is fully insured, meaning that if Coinbase were to suffer a breach of their online services, an insurance policy will pay out to cover customer funds lost. Less than 2% of customer funds are held online, the rest is held in offline storage. The Coinbase website itself is very secure, offering 2-factor authentication, adding that extra step of security during the log in process. For more information on two-factor authentication, visit our frequently asked questions. The website has an SSL certificate (https), meaning all communications between your browser and the website are encrypted. Coinbase offers you full control of your wallets, with private keys on their multi-signature vaults.
Mobile Apps
Coinbase offer both Android and iOS mobile apps, meaning you can have convenient access to your account from anywhere. These are both free to download from both the Google Play store and the Apple App store.
Videos from Coinbase
Coinbase Exchange interface overview from Coinbase
Screenshots from Coinbase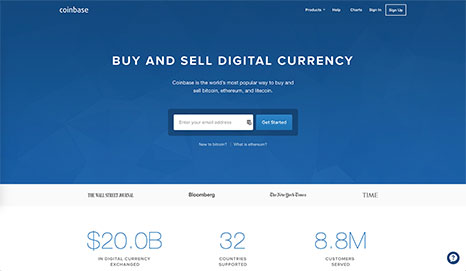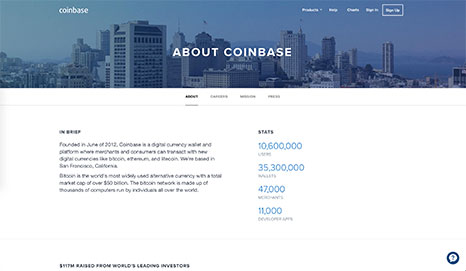 Visit Coinbase
Share & Comment
Have you got something to add about Coinbase? Have you used them and want to share your experience? Let us know here!