We have reviewed various cloud mining services, including payment options, contract lengths, where they're based, videos published by the company and their social networks so you can check them out for yourselves. Compare cloud miners on our Cloud Miners Comparison Table.
You've mined a bitcoin, now what? Read about exchange services where you can turn your cryptocurrencies into fiat currency or another cryptocurrency. These exchanges offer BTC, ETH, USD, GBP, EUR and more. Read about fees, commission, payment methods and more.
There are many options available out there to store your digital currency; from hardware wallets to ones that run on your mobile phone. Some offer you a higher level of security than others, some require more than one person to operate and there are many more features you should consider before choosing a wallet. We've reviewed some of the best ones here, with more soon! Compare wallets, browse by cryptocurrency or by wallet type on our Cryptocurrency Wallets Comparison Table.
If you're hoping to use your bitcoin in stores like you would do with traditional fiat currencies, (dollar, euro, etc), cryptocurrency debit cards are for you. Load them up with your cryptocurrency and they work just like a regular visa card. Use them wherever you would normally use a visa card, restaurants, shops, online, etc. There are several choices available, all offering different benefits and features, with different fees and costs. Compare cards on our Debit Card Comparison Table.
VPN services are a great way to keep your information secure, as well as your anonymity online. Especially when dealing with anonymous currencies. There are lots of VPN services available, we've' taken the best ones, reviewed them and compared them. We look at their features, such as how many devices you can use, if you are able to stream region locked content, what platforms they have apps on, if they keep logs and of course, price. Compare VPNs on our VPN Comparison Table.
Mining, or hashing, algorithms are cryptographic mathematical functions that are used for used for digital authentication. Transactions on the blockchain are validated using a hash. There are several cryptocurrency mining algorithms. Click to see which coins use which algorithms.
Wondering how profitable it can be to mine a particular cryptocoin, such as bitcoin? We've designed mining calculators to make this process simple. You just have to input your hashing power, any fees or expenses such as hardware costs if you're using a rig, or your contract cost for a cloud mining deal. The current rate of the coin against the USD is pre-filled, along with the mining difficulty. These can both be changed, if you wish. Then hit calculate and will give you an estimate of your profit.
Head to our calculator page to select your cryptocurrency or if you have a mining rig at home, head over to our 'coin to mine' calculator to work out what you should be mining at home right now.
Looking for a different cryptocoin calculator? Need some more options for a more accurate calculation? Take a look at all of our calculators.
Want to know which coin you should mine right now? Need to add some more gpus to the calculator? Visit the full coin to mine calculator.
Mining Calculator Widgets
You can embed the mining profitability calculators we have built in your own website, with the embed code we provide. You can customize the widget too and theme it to match your website or blog. We offer the widget for coins such as Bitcoin, Ethereum, Zcash and many more.
Get Widget
Preview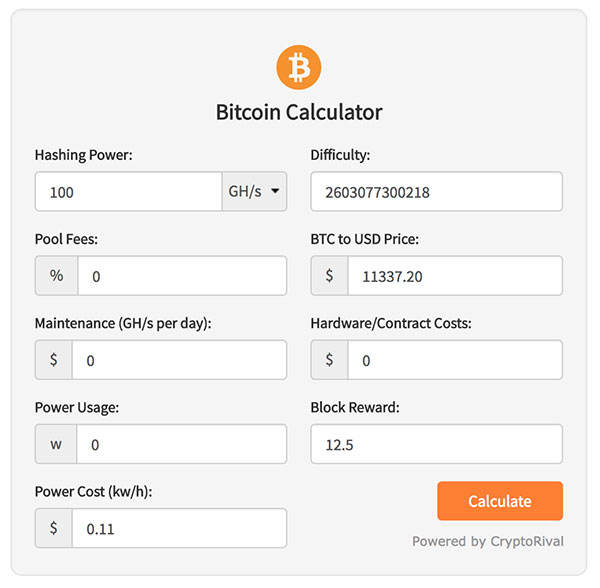 Cryptocurrency News
We also offer a news widget which you can embed on your website for free. It is a feed of the latest news from the cryptocurrency world. You can customize the link colors, the add borders, change the width and more. You can see a list of the sources we use over on our news page.
Get Widget
Preview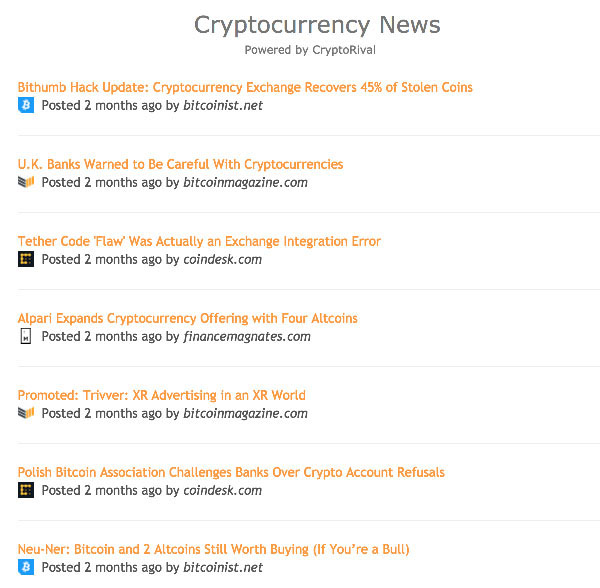 All our widgets are free to use, however, they are subject to our
terms of use.