Pros
Can add funds using fiat
Verification is not required
Mobile apps for iOS and Android
2FA account protection
Has never been hacked
Cons
Doesn't offer many cryptocoins
Does not allow US customers
High fees
Registration is required
What is Indacoin?
Indacoin is an exchange based in London, England, where you can buy bitcoin and Ethereum. It was founded in 2013 and has been going strong ever since. The website is available in several languages too, you do not need to have an account in order to use the site, but you can create an account if you wish, for faster transactions in the future. They also offer a wallet, on Android and iOS, which makes the process of currency exchange with them more streamlined. The website is offered in English, Spanish, Russian, Turkish and Arabic.
Currencies Offered
Account funding
You can buy cryptocurrency on Indacoin using Visa or Mastercard debit or credit cards, from any country in the world, except the USA and China. The Visa or Mastercard you wish to use must be either Verified by Visa or have MasterCard SecureCode. Payments are in taken in dollars (USD), euros (EUR) or ruble (RUB), just pick which you prefer during the checkout process.
Account Loading and Limits
As with other exchanges, there are some limitations on the first few transactions you make with Indacoin. There is a limit of between $/€30 and $/€500.00 for the first transaction. After four days, there is a limit of $/€200.00 for the second. Then the limit will increase to $/€500.00 after seven days from the first transaction. There is a limit for the first month of $/€5000. After this, all limits are removed and you can exchange as much as you like. If your card currency is different from $ or €, the conversion is completed at the rate of your bank. You can find this out by contacting your bank or a quick search online.
Trading
Trading with Indacoin is easy and effective, allowing you to buy bitcoin or Ethereum in two ways. Market price, with a 3% fee or at your own price, with leverage options of up to five times and a stop loss facility. You can see recent trades/bids, open orders and utilize their charts to make the best trade.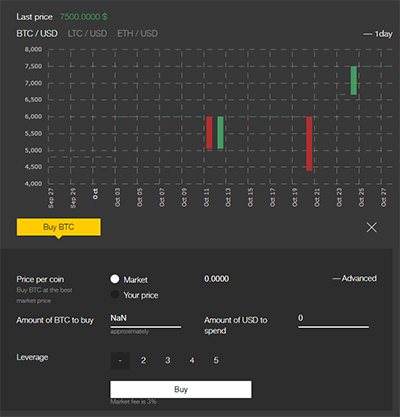 Commission and Fees
The commission fee depends on what you use to exchange cryptocurrency, i.e. website, Android or iOS.
Wallets
Upon sign up, Indacoin give you a bitcoin and Ethereum wallet for funding your trading. The wallet is very simple to use and offers QR code deposits of cryptocurrencies, which occur after four network confirmations are received. This can take between one and twenty four hours.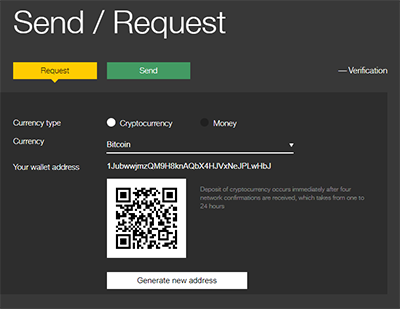 Security
Indacoin's website uses https (an SSL certificate), meaning all communications between your browser and the website are encrypted. They offer two step authentication on your account too, this adds an extra layer of security to your account when you sign in. For more information on two-factor authentication, visit our frequently asked questions. There are also several settings within your account, adding further security. You can opt to be notified with each account log in every order execution and only allow withdrawals to previously saved accounts.
Your debit or credit card must be verified with Indacoin. To do this, you'll need to enter two codes. The first one you will receive from a phone call, the second is found on your debit or credit card statement. Take note, the phone number you provide to Indacoin must match the phone number on your bank account. This might seem like a lot of work, but it keeps everyone safe and secure and protects your account from fraud. Once you are verified, you do not need to enter the codes again.
Support
Indacoin have excellent support, with live chat on the website, email and even through social media, such as Facebook. They respond very quickly to the instant chat and speak English, Russian and Spanish.
Mobile Apps
Indacoin differ from other exchange services, by offering both iOS and Android apps for their wallet. These are free to download from the App Store and the Google Play Store. They are a fantasic way to buy and sell currency on the go.
If you're a Chrome user, Indacoin also offers an extension on the Chrome store, which allows you to get the best bitcoin price possible and make cryptocurrency purchases in a just few clicks.
Videos from Indacoin
How to buy bitcoins with a credit/debit card on Indacoin?
Mobile Bitcoin Wallet - Indacoin
Screenshots from Indacoin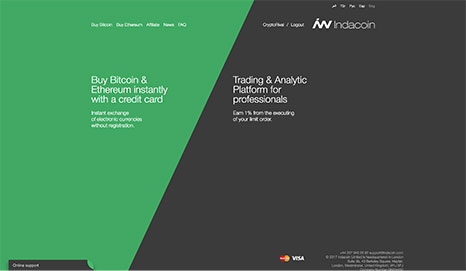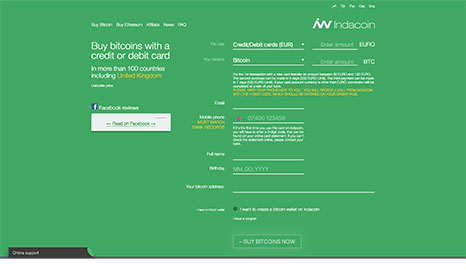 Visit Indacoin
Share & Comment
Have you got something to add about Indacoin? Have you used them and want to share your experience? Let us know here!