Pros
Payouts made on a daily basis
Payout minimum is low
Cons
Doesn't offer many cryptocoins to mine
Has no mobile apps
What is Hashing24?
Hosting your own mining rig at home can be expensive, gets very loud and is prone to overheating, making a potential fire hazard. And then there's the electricity bill that comes with running a pc 24/7. This is where Hashing24 comes in. They are a cloud mining service that does all the hard work for you. They host the mining rigs, pay for all the hardware and guarantee 100% stable hashpower and uptime. All you have to do is sign up.
Not ready to mine for real yet? Hashing24 offers Demo Mining, where you can try out different options, play around with the site and understand the fundamentals of mining without risking your own money.
The history of Hashing24
Started in 2012, Hashing24 is for anyone that wants to get started in the world of digital currencies by mining Bitcoins. Created by professionals for both beginners and experts in the mining world, the site gives you access from a laptop, pc or even on your mobile phone, so it can be used almost anywhere.
Data Centers
Hashing24 do not host their own or mining facilities or servers, instead, they choose the most reliable and reputable mining companies to serve their mining needs. They ensure the companies they use offer warranties for their equipment and its maintenance. Hashing24 is using BitFury, one of the industry's leaders in mining power.
Pricing and Contracts
Unlike other cloud mining companies, Hashing24 offers open-ended contracts for you to make an investment in. This means there is no time limit until its up, it's yours forever, as long as it remains profitable. This is a great alternative to buying digital currencies. The lifetime contracts incur and daily maintenance fee of 0.00033 USD. If your contract does not make enough to cover the maintenance fee, you will have three days in order for it to become profitable again. If this does not happen, your contract will be cancelled.
Contract Length
Open-Ended
Maintenance Fee
0.00033 USD per GH/s per day
Bitcoin Contracts
Hashing24 do not offer set contracts. The hashing power and the payment method you pick are up to you. We've made some example contracts that are comparable to other cloud mining services, for reference. Of course, the hashing power, and ultimately the profitability of the set up you choose, is up to you.
Check out our bitcoin profitability calculator to see if you can start making money mining bitcoins.
Bitcoin Contracts and Profitability
(The profit and breakeven figures are based on fluctuating bitcoin prices, mining difficulty, along with various other factors. Please refer to our bitcoin calculator and charts to help make a decision that's right for you.)
Plan One
$41.90
one time fee
Contract Length
Lifetime
Hash Power
200 GH/s
Daily Gross
$0.18
Daily Fee
$0.07
Daily Profit
$0.11
Breakeven
374 Days
Monthly Profit
After Breakeven
$3.37
Sign Up!
Plan Two
$523.73
one time fee
Contract Length
Lifetime
Hash Power
2,500 GH/s
Daily Gross
$2.23
Daily Fee
$0.83
Daily Profit
$1.40
Breakeven
374 Days
Monthly Profit
After Breakeven
$42.06
Sign Up!
Plan Three
$3,142.35
one time fee
Contract Length
Lifetime
Hash Power
15,000 GH/s
Daily Gross
$13.36
Daily Fee
$4.95
Daily Profit
$8.41
Breakeven
374 Days
Monthly Profit
After Breakeven
$252.35
Sign Up!
Cryptocurrencies Offered
As of 2017, Hashing24 offers the mining of bitcoins only. If you're after other cryptocurrencies, such as Litecoin, Ethereum, etc, check out other cloud mining companies, such as Genesis Mining or HashFlare.
Payouts
As soon as you start making some currency, payouts from Hashing24 are daily. The minimum payout is 0.001 BTC.
Is it a scam?
We hear this question a lot, is it legit? Is it a ponzi scheme? Can they be trusted? Hashing24 are backed BitFury. BitFury just became part of The Blockchain Alliance, an organization designed to combat criminal activity on the blockchain. They also allow you to demo their product before you pay any money at all.
Security
The Hashing24 website has an SSL certificate (https), meaning all communication between your browser and the website are encrypted. Hashing24 offer users two step authentication on their accounts, adding an extra step of security when you're logged in to the site. For more information on two-factor authentication, visit our frequently asked questions.
Videos from Hashing24
Hashing24 - Real Bitcoins from Real Miners
Hashing24 - Real Bitcoins from Real Miners
Screenshots from Hashing24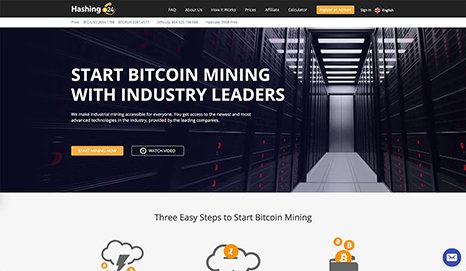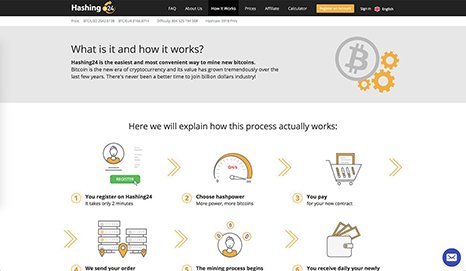 Visit Hashing24
Share & Comment
Have you got something to add about Hashing24? Have you used them and want to share your experience? Let us know here!