Pros
Offers a good amount of cryptocoins to mine
Payouts made on a daily basis
Payout minimum is low
What is NiceHash?
NiceHash is a crypto-mining marketplace. It's different to other miners we review here, as it offers users to opportunity to rent hash power as well as sell it. If you have a PC lying around and want to make a bit of cash, you could consider renting out to a crypto-miner. This system makes NiceHash unique.
The history of NiceHash
Founded in 2014, NiceHash had the simple goal of connecting people buying hashpower with people who are selling it. Their aim was to become a one-stop shop for all things mining. Their website is in several languages and they're based in several countries too.
NiceHash have been developing a better website and on September 5th, 2017, moved over to the new site, nicehash.com. The old site will work for a short time, but users should use the new site from now on, as the old one will be disabled soon.
Cryptocurrencies Offered
Data Centers
Unlike other cloud mining services, NiceHash do not have their own data centers. Instead they rely on customers to sell hash power, in order for customers to be able to buy hash power.
Payouts
Once you start earning with NiceHash, you can request a payout. This will usually be completed within a few hours. Payments are made to your NiceHash wallet in BTC.
Is it a scam?
Something we often get asked, is it a ponzi scheme? Is it legit? Can NiceHash be trusted? They currently have over 160,000 daily active users, have completed over 4,000,000 orders and paid out over 100,000 bitcoins.
Security
NiceHash has an SSL certificate (https) on the website, meaning all communications from your laptop, phone or pc and the website are encrypted. This means your mining investment is safe and secure. NiceHash offer users two step authentication on their website too, adding extra security when you're logging into the site. For more information on two-factor authentication, visit our frequently asked questions.
Videos from NiceHash
NiceHash how to buy hashing power Quick-Start
NiceHash how to buy hashing power tutorial
How to start with NiceHash - Official Guide
Guide: How to automatically run NiceHash Miner on Windows startup
Screenshots from NiceHash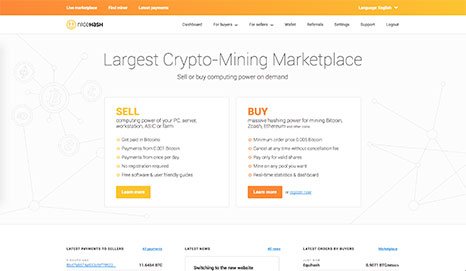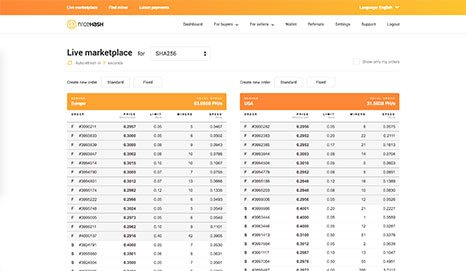 Visit NiceHash
Share & Comment
Have you got something to add about NiceHash? Have you used them and want to share your experience? Let us know here!