Pros
You have full control of your funds
The wallet is open source
Mobile apps for iOS and Android
Cons
You do not have control over the transactions fees you pay
No 2FA protection
What is Bread?
Bread, also known as BRD, is a standalone cryptocurrency mobile wallet for Android and iOS users. This means that your money is not stored on a server, so there is no chance of hacking or the server going down. As such, you can always access your money, as it connects directly to the bitcoin network. Bread wallet is a highly recommended simple and secure cryptocurrency wallet.
They have been around since 2015 and are continuously growing, adding new supported cryptocurrencies and features to their app and wallet, which is different from other bitcoin wallets. The wallet is free to download on both Android and iOS.
Platforms
The Bread wallet is currently only available on the following mobile platforms, as it is purely a mobile device wallet. This can make it a limited option for some users, but if you are the type of person whose mobile phone is never far from you, a mobile wallet might just be the best option for you.
Coins Supported
Bread wallet started out as purely a bitcoin wallet, but has since added more cryptocurrencies and altcoins to the wallet.
Storage Type
Bread wallet is a hot wallet, (learn more about hot and cold wallets) meaning that it is connected to the internet. This makes it very easy to use but ideally shouldn't be used for large amounts of money. Think of it as a current account rather than a savings account.
Multisignature
Bread wallet is not a multisig wallet, so you do not need a second user or device in order to access the wallet.
Source Code
The code for the Bread wallet is open source and available. Anyone can look through the code for back doors or vulnerabilities, so you can really see what is happening and how your money will be stored.
Security
The Bread wallet app requires you to set up a PIN code which is separate from your device password. This PIN will be required each time you open the app on your phone. If you have a finger print reader on your device, you can set this up to, making it very quick and easy to access. This helps keep your wallet secure, even if someone knows your device password, they would still need this extra PIN or your finger print to unlock the wallet. If you forget this PIN, you can reset it using the paper key, read more about this below.
Bread wallet does not offer two factor authentication, which is some what of a problem, but the app is PIN protected and can also be finger print protected, so it is not totally unsecured.
Back Up
When you open a brand new wallet with Bread, you are provided with a paper key. A paper key is twelve randomly generated words which you will need if you ever lose access to your account, forget your PIN or lose your device. The paper key can be used to recover your entire wallet if you lose your phone, tablet or device where you have Bread installed. You will also use this paper key if you upgrade to a new phone. It is important to keep this combination of words safe, written down somewhere, offline preferably. If anyone was to gain access to it, they could potentially steal the funds in your wallet. For more information about paper keys, visit our frequently asked questions.
Hierarchical Deterministic
The Bread wallet is a HD (hierarchically deterministic) wallet, meaning you can generate many receiving addresses. As such, no single wallet address would carry out more than one transaction. The Bread wallet will give you a new address each time a transaction is completed. However, you can reuse the same address, if you wish. Old addresses will continue to work, even if they are no longer shown in the app. If you carry out more than transaction in a short space of time, the address will be the same.
Anonymity
Bitcoin is on a public ledger, therefore all transactions can be traced, however, Bread being a hierarchical deterministic wallet, makes linking transactions to a specific user much more difficult.
Control
Fee Control
You cannot control your transaction fees with Bread wallet. The fees are fixed based on recommended network times to process your transaction in a timely fashion.
Full Control
With Bread wallet, you have full control over your money. There is no third party involved. Bread wallet would not be able to stop you from withdrawing your funds or moving your funds to another wallet.
Screenshots from Bread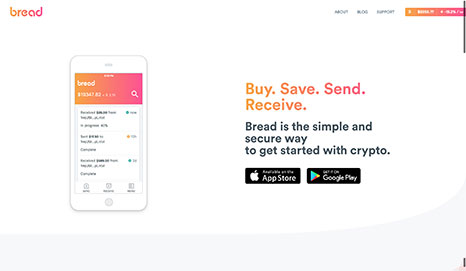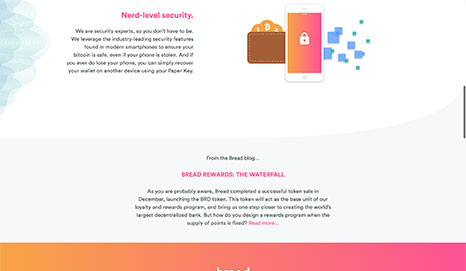 Visit Bread
Share & Comment
Have you got something to add about Bread? Have you used them and want to share your experience? Let us know here!