Pros
You have full control of your funds
The wallet is open source
2FA protection
Works on Windows, Linux and Mac
Cons
You do not have control over the transactions fees you pay
No mobile apps for iOS or Android
What is Trezor?
Trezor is a cryptocurrency wallet that is a highly secure, mobile and extremely clever way to manage your bitcoin and a few other selected altcoins. It is a hardware wallet, meaning it is a physical device, rather than online or in a mobile app.
History
Released back in 2013, Trezor is considered to be the 'original bitcoin hardware wallet'. Since then, it has garnered a huge support and a massive following. This has led rivals to pursue the creation of similar products, based in large around how the Trezor wallet device works.
Coins Supported
Many wallets on the market support many different cryptocurrencies. Trezor currently supports the following currencies:
Source Code
The source code for the wallet has been published on Github and is updated regularly. The updates address any bug fixes and issues that may appear within the software, along with adding new features and improvements to the wallet itself. You can find the source code repository on the Github website.
Recovery and Back Up
In the event that you were to lose the wallet, it is fully recoverable with the use of the twenty four word seed, which will be provided to you upon setup. Be warned, if you lose this twenty four word combo and the Trezor, your cryptocurrency balance is as good as gone. So keep your code somewhere safe!
Software
To load the wallet up with bitcoin or your cryptocurrency of choice, just plug it into your laptop or PC and you're off. The wallet is used via a Chrome or Firefox extension, which works on Windows (version 7 and higher), Mac OS X (version 10.11 and higher), Linux and even Android (Devices that support USB On-The-Go). Setup is easy and once you have setup a pin, the interface is easy to use. It is clean, clear and how to send, receive and manage transactions is very simple.
Platforms
The Trezor wallet is available on the following platforms:
Security
Security is a concern for most people looking into hardware wallets and it can be very complicated to understand. Trezor's security is top notch, utilizing all industry standards, such as two step authentication and requiring a pin entry for usage, with a timeout that increases by a factor of two, each time an incorrect pin is entered. For more information on two-factor authentication, visit our frequently asked questions.
Transaction confirmations and wallet addresses are only ever displayed on the Trezor device, not the laptop or pc it is connected to. This is to prevent anything from being scraped or stolen, should the machine you are using be hacked or monitored.
Hardware
The Trezor wallet is based on a 120 MHz embedded ARM processor (Cortex-M3). It has a small 128x64 pixels screen, with a bright OLED, making it easy to see for it's size. It weighs just 12 grams, or 0.42 oz. It is connected to a pc, laptop or even an Android device using the micro USB cable that is provided with the wallet.
The Trezor box contents comes with:
The Trezor wallet
A strap
A Micro USB Cable
An instruction card
2 recovery seed cards
Conclusion
In conclusion, the Trezor is a well priced wallet, with a utilitarian design. The wallet has easy to use functions that favor a cold wallet rather than a hot one, as the added security of using a device like this impacts the overall flexibility of using cryptocurrencies on the go.
Screenshots from Trezor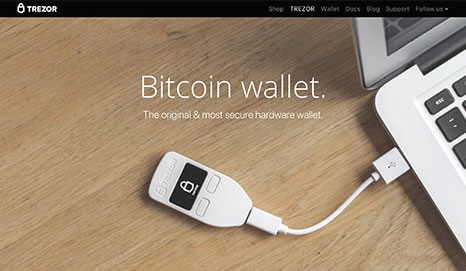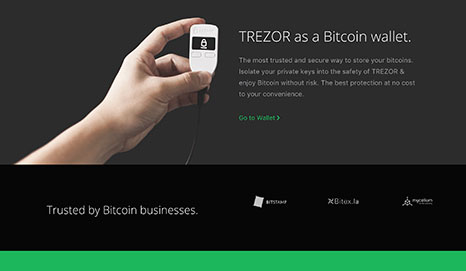 Visit Trezor
Share & Comment
Have you got something to add about Trezor? Have you used them and want to share your experience? Let us know here!