Pros
Does not charge an inactivity fee
There are no declined transaction fees
No online or in-store purchase fees
No delivery fees
Cons
Charges a loading fee
Charges a monthly fee
Charges domestic and international ATM fees
Has a spending limit
No apps for iOS or Android
Does not allow US customers
What is Bonpay?
The Bonpay debit card is launching in the summer of 2018, you cannot register for a card just yet. Check out our blog for updates on when it will be available to order!
Bopnpay is a cryptocurrency debit card, which draws from your bitcoin balance, rather than a bank account. It is being released in the summer on 2018, but you are able to register now to preorder a card. The card will be a Mastercard, so you can use it anywhere that Mastercard is accepted.
Supported Currencies
Currently, Bonpay supports the following cryptocurrencies:
Fiats Available
The Bonpay card can be ordered in two currencies, either Euros or Dollars. You can have four Bonpay cards active at any time, in either of the currencies offered. Two plastic cards and two virtual cards. However, it is worth noting that the Bonpay card, wallet and services are not available for residents of the U.S.
Account Loading
You can add funds to your Bonpay wallet, which you can then use to load your debit card, using the Bonpay wallet.
Spending and Loading Limits
There is a limit of €20,000 that can be on the card at any one time.
Usage
You can use the Bonpay debit card wherever you would normally use a plastic debit card; shops, gas stations, etc. You can also use them online, just as you normally would. The only difference if you are using your bitcoin balance instead of a fiat balance from your bank or a pre-paid visa.
ATM Withdrawals
The debit card can also be used at any ATM to withdraw cash, be it at home or worldwide if you are traveling. Fees do apply here though. You will be charged each time you withdraw cash, regardless of the amount. There is a limit on how much you can withdraw from an ATM, currently it is €1,000 each day.
Card Delivery
The physical plastic typically arrives in 3-8 weeks after you have ordered it. You can pay for express shipping and have the card much sooner, within 5-10 days. Once it arrives, you can use it right away.
Mobile Apps
Bonpay do not offer any mobile apps for either Android or iOS presently. Managing your debit card will need to be done on a pc, tablet or on the browser on your mobile phone, which may not be for everyone.
Videos from Bonpay
Bonpay - Make a step towards financial freedom
Screenshots from Bonpay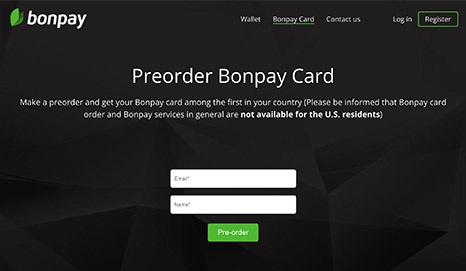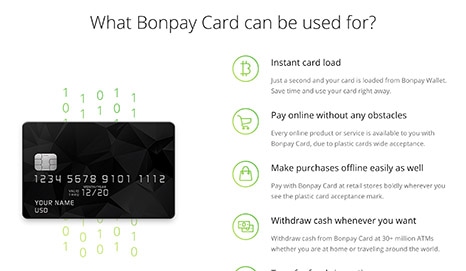 Visit Bonpay
Share & Comment
Have you got something to add about Bonpay? Have you used them and want to share your experience? Let us know here!