Pros
Free to load money onto your card
There is no maximum load amount
There is no spending limit
Mobile apps for iOS and Android
Does not charge an inactivity fee
Cons
Charges a monthly fee
Charges domestic and international ATM fees
Charges online purchase fees
Has a minimum load amount
Charges a declined transaction fee
What is Wirex?
Currently, Wirex is only offering the physical plastic debit cards in British Pounds (GBP). Euro (EUR) and Dollar (USD) cards are coming soon. However, if you order their virtual card, you can get any of the three currencies. Check our blog for updates on this!
Wirex is a bitcoin debit Visa card that you load with bitcoin and then use in stores just like any other debit card. The difference being that the funds are drawn from a bitcoin balance rather than your banks fiat currency. Wirex has been operating since 2014 and have offices in London and Tokyo. Opening an account with Wirex is free, however, some fees do apply when you order a debit card, use it abroad, etc. See below for details of the fees.
It's worth noting that the Wirex debit card is currently not available to customers living in the United States.
Supported Currencies
Currently, Wirex supports the following cryptocurrencies:
Fiats Available
The Wirex debit card is available in three fiat currencies, British Pounds, Euros or US Dollars. You are allowed to own a maximum of six Wirex debit cards, two for each currency, one virtual and one plastic, i.e You can have a GBP virtual card as well as a GBP plastic card. You can do the same for Euros and Dollars if you wish.
Account Loading
You can top up your Wirex cryptocurrency debit card for free, there are no loading fees, unlike other debit card providers. There is a minimum load fee of $25.00, £25.00, €25.00, this applies each time you add funds to your card. The maximum load if unlimited, but obviously cannot exceed your maximum balance. See more about that below.
Fees
Card Fee
The initial fee to order a Wirex card depends on which currency card you order, the fees are as follows: $17.00.
Foreign Exchange Fee
Most cryptocurrency debit card providers charge a fixed percentage if you use your card abroad, however, Wirex are slightly different. They will charge FX at wholesale rate if you use your card internationally. For example, if you have a Dollar (USD) card and you buy something in England, in GBP, you will be charged a foreign exchange fee.
PIN Change Fee
You can change the PIN code that comes with your Wirex debit card at an ATM, just like any other debit card. However, you will be charged to do so. The fee, again, depends on which currency card you have; $1.00, £0.60, €0.80.
ATM Fees
You can use your debit card to withdraw cash, just like any other debit card. However, fees do apply to each and every cash withdrawal you make. They vary depending on if you are at home or traveling abroad.
Domestic
ATM fees when you are in your home country are $2.50, £1.75, €2.25, depending on which currency debit card you have.
International
International ATM fees, when using your card abroad or outside on your home currency are slightly higher, at $3.50, £2.25, €2.75, again, dependent upon the debit card you have.
Monthly Fees
There is a monthly 'account management fee' for having an active Wirex debit card account. These are $1.50, £1.00, €1.20, depending on which currency card you have.
Declined Fees
Wirex are the only debit card service we review that charge their users a 'declined fee'. If you try to pay for something and your debit card doesn't have enough funds to cover the payment, Wirex will charge you, the amount varies for each card; $0.07, £0.06, €0.05.
Purchase Fees
Wirex are also the only debit card site we review that charges users a 'purchase fee' of $0.28, for using your debit card online. This fee currently only applies to the Dollar (USD) card, not the Euro (EUR) or British Pounds (GBP) cards.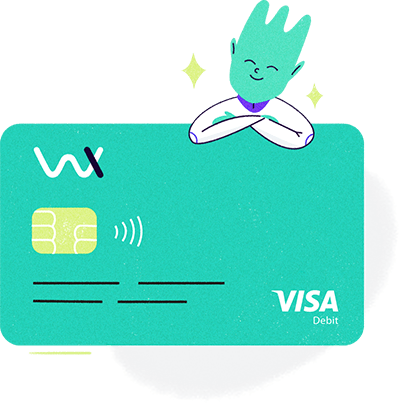 Maximum Balance
A maximum balance is in place with Wirex and it differs for each currency card, be it GBP, EUR or USD. You may only have $10,000.00, £7,500.00, €8,000.00 on your card at any one time.
Spend Limit
Wirex do not impose any spend limits on your card, currently it is unlimited.
Card Delivery
The physical plastic card is free to deliver by standard mail and the card will be with you in 3-8 weeks. You can speed up this process by paying for expedited shipping. That will cost $33.00 and the card will then only take 3-10 days to arrive.
Mobile Apps
Wirex offer both Android and iOS apps for use with their debit cards. Both apps are are free to download. You can view your balance, top up your card, send money to friends and more.
Security
The Wirex website has an SSL certificate (https), which means any communication between your browser and them are encrypted. They also offer two-factor authentication on your account, adding that extra step of security during the log in process. For more information on two-factor authentication, visit our frequently asked questions.
Videos from Wirex
Wirex 3.0 is here ⚡️
Bitcoin-Friendly Currency Accounts Now Available From Wirex
Screenshots from Wirex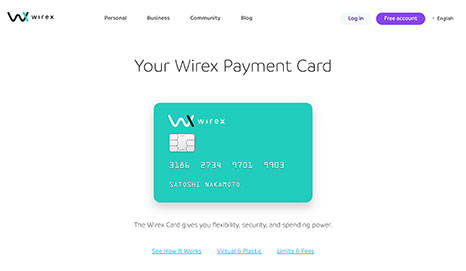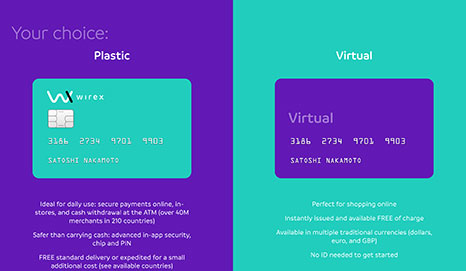 Visit Wirex
Share & Comment
Have you got something to add about Wirex? Have you used them and want to share your experience? Let us know here!