Pros
There is no minimum load amount
Mobile apps for iOS and Android
Does not charge an inactivity fee
There are no declined transaction fees
No online or in-store purchase fees
Cons
Charges a loading fee
Charges a monthly fee
Charges domestic and international ATM fees
Has a spending limit
Has a maximum load amount
What is CryptoPay?
As of January 5th, 2018, Visa ended its relationship with a the debit card provider, known as WaveCrest. As such, most bitcoin debit cards have ceased operation. CryptoPay are no exception and are currently not accepting any new registrations at the moment. Check back on our blog for info on this!
Founded in October 2013, CryptoPay is an online digital bitcoin debit card that offers you several unique ways to use your bitcoin balance. You can order a physical debit card that can be used in stores and anywhere a regular visa is accepted. You can get a virtual debit card, which has all the features of a regular debit card, but you don't actually have a physical card, so it can be used online or anywhere you can just input a debit card number rather than needing the physical object, such as ordering tickets over the phone, for example. CryptoPay also allows you to transfer money with anyone in the world, they even offer a B2B solution, should your business wish to accept bitcoin as a payment method.
Supported Currencies
The CryptoPay wallet supports:
You can add funds to your account using SEPA, UK FPS or your BTC address.
Fiats Available
CryptoPay offer three physical debit cards that can be used like any other debit card. They are Visa cards and draw from your bitcoin wallet instead of a bank account or a pre-paid balance. The options are US Dollars, GB Pounds or Euros. The cost of each card varies, along with their ATM fees, foreign transaction fees, loading fees, service fees and delivery.
Fees
Card Fee
The initial cost of the debit card from CryptoPay is the same, regardless of the fiat currency you have chosen. The price is currently $15.00, £15.00, €15.00.
Foreign Exchange Fee
If you use your card internationally while traveling or abroad, you will be charged a fee of 3%. This fee is the same for the Dollar (USD), Euro (EUR) and British Pounds (GBP) cards. For example, if you use your Dollar card in Europe, you will pay in Euros but will be charged 3% on top of the price of the item you are purchasing. Something to consider if you are going to travel with you card.
PIN Change Fee
There is no fee to change your PIN with CryptoPay. Some debit card providers do charge a fee for this service, so bare that in mind when picking a debit card, if changing the PIN of the card is important to you or something you would wish to do.
ATM Fees
You can use your debit card to get cash out at any ATM just as you would a normal bank card, however, fees do apply here. The amount you pay depends on if you are at home, or using the card internationally. The ATM fee is charged each and every time you withdraw cash, so make it count, because the fees can add up quickly if you are not aware of them.
Domestic
Domestic fees are as follows: $2.50, £1.75, €2.25, depending on the currency of your card.
International
International ATM fees are slightly larger, $3.50, £2.25, €2.75, again, depending on the type of debit card you have.
Monthly Fees
CryptoPay charge a 'monthly service fee' for having the card and an account with them, even if your card is inactive.
Declined Fees
Some debit card services will charge a fee if you have not got enough funds to cover a payment. However, CryptoPay does not do this. Any declined transactions do not incur a fee.
Debit Card Comparison
Scroll right for more information
| | | | |
| --- | --- | --- | --- |
| | € Card | £ Card | $ Card |
| Card Price | €15.00 | £15.00 | $15.00 |
| Standard Worldwide Delivery | Free | Free | Free |
| Express Worldwide Delivery | €70.00 | £50.00 | $75.00 |
| Domestic ATM Transaction | €2.25 | £1.75 | $2.50 |
| International ATM Transaction | €2.75 | £2.25 | $3.50 |
| Foreign Transaction Fee | 3% | 3% | 3% |
| Monthly Service Fee | €1.00 | £1.00 | $1.00 |
| Loading Fee | 1% | 1% | 1% |
| Third-party Loading Fee | 1.99% | 1.99% | 1.99% |
| ATM Withdrawal Limit | €400 (€1000 for verified account) | £400 (£1000 for verified account) | $320 ($800 for verified account) |
Account Loading and Spending Limits
As with any debit card, there are certain limits that apply to things like ATM withdrawals and the amount of time you can withdraw in a day. If you've ever used a loadable visa card, you'll know that there are also limits on how many times you can reload the card, as well as an amount limit. This is the same for CryptoPay, there are a few loading and spending limits on the card, displayed below.
Scroll right for more information
€ Card
£ Card
$ Card
Verified / Unverified
Value of Online Transactions
€1000 /
Unlimited
£800 /
Unlimited
$1000 /
Unlimited
Third-party loads available
No / Yes
No / Yes
No / Yes
Single ATM transaction limit
€200 / €1000
£160 / £800
$200 / $1000
Daily ATM withdrawal limit
€400 / €2000
£320 / £1600
$400 / $2000
Max single top-up value
€1000 / €10000
£800 / £8000
$1000 / $10000
Max daily load
€1000 / €20000
£800 / £16000
$1000 / $20000
Max lifetime load
€1000 /
Unlimited
£800 /
Unlimited
$1000 /
Unlimited
Max lifetime unload
€1000 /
Unlimited
£800 /
Unlimited
$1000 /
Unlimited
Loads per day
2 / Unlimited
2 / Unlimited
2 / Unlimited
ATM transactions per day
2 / 5
2 / 5
2 / 5
Account Verification
Certain limits and restrictions are in place with CryptoPay, however, these are mostly unlimited if you verify your account. This is easy to do and gives you lots of benefits, such as the ability to use bank payments to top-up your CryptoPay account. If you're unverified, you won't be able to link your bank account to CryptoPay. You can become verified by providing CryptoPay with a few bits and pieces of information and documentation about yourself.
You will need to submit 3 types of documents, first, a valid government-issued ID, second, a proof of residency, such as a bank statement, a credit card statement, a bill, etc and lastly, a selfie with your ID document in your hands. Once they've checked it all over, you will be verified and will have much more freedom with your account and debit card.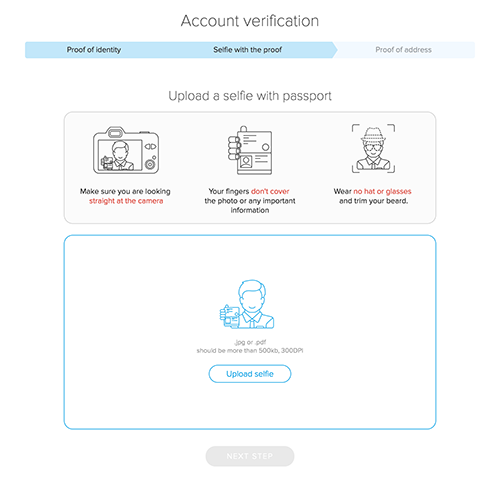 Card Delivery
The delivery of the physical plastic card is free, but can take some time. If you want to speed up the prices, you can do so by paying for expedited shipping from DHL, which costs $75.00, £50.00, €70.00 and the card would be with you much faster, in 3-10 business days.
Mobile Apps
CryptoPay offer customers a free mobile app on both Android and iOS. This is one of the cleanest apps we have seen for managing your money on the go. It is very user-friendly, easy to understand and very quick to get set up and started. You can use the mobile app to order a debit card, check your balance, add funds, unload funds, transfer money to and from fiats and bitcoin, send money to a friend and more. It incorporates two-factor authentication, such as finger print or a PIN code, to keep the app, and ultimately your money, very secure. We highly recommend doing this as soon as you set up an account. For more information on two-factor authentication, visit our frequently asked questions. They also offer an Apple Watch app, which could prove very useful to some people.
Security
CryptoPay offers users the ability to enable two step authentication on their log in area, making it much more secure. There is an online area where you can track all your payments, deposits, withdrawals and transactions. This is available to you 24/7 so you can keep an eye on your account.
Screenshots from CryptoPay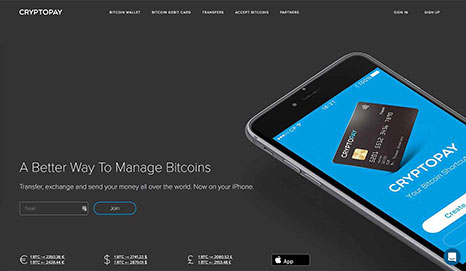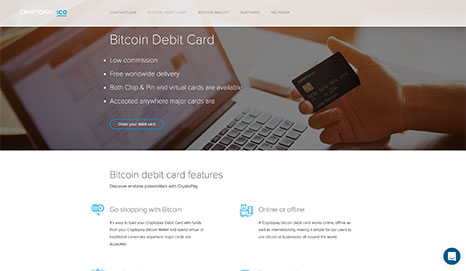 Visit CryptoPay
Share & Comment
Have you got something to add about CryptoPay? Have you used them and want to share your experience? Let us know here!