Pros
There is no spending limit
Mobile apps for iOS and Android
Does not charge an inactivity fee
There are no declined transaction fees
No online or in-store purchase fees
Cons
Charges a loading fee
Charges a monthly fee
Charges domestic and international ATM fees
Has a minimum and a maximum load amount
Charges a foreign exchange fee
What is Spectocoin?
As of January 5th, 2018, Visa ended its relationship with a the debit card provider, known as WaveCrest. As such, most bitcoin debit cards have ceased operation. SpectroCoin are no exception and are currently not accepting any new registrations at the moment. Check back soon for our review once they are up and running again!
SpectroCoin is a cryptocurrency debit card, cryptocurrency wallet and a cryptocurrency exchange service. The debit card allows you to add funds using your cryptocurrency balance and then use it in stores just like you would a regular debit card. The difference being that the SpectroCoin card draws from your crypto balance rather than your fiat balance. You can use it online, in restaurants, gas stations, anywhere you normally would.
Supported Currencies
Currently, SpectroCoin supports the following cryptocurrencies:
Fiats Available
SpectroCoin offers their debit card is U.S. Dollars (USD), British Pounds (GBP) and Euros (EUR). The cards can be used anywhere in the world just like regular Visa cards can be.
Account Loading
You can load your card using the balance of a SpectroCoin wallet.
Spending and Loading Limits
Spending and loading limits are imposed on your card. These limits vary greatly between verified and unverified users. In order to become a verified user, you will have to provide a passport or identification card and a utility bill for your current address.
Scroll right for more information
| | Unverified | Verified |
| --- | --- | --- |
| Max number of top ups per day | 2 | 2 |
| Max top up amount per day | $1,500/€2,500/£2,000 | $3,000/€5,000/£4,000 |
| Minimum top up amount | $10/€10/£10 | $10/€10/£10 |
| Max lifetime load | $1,500/€2,500/£2,000 | No limit |
Fees
Card Fee
There is a fee to get your initial plastic bitcoin debit card, it is the same depending on the fiat currency of the card you order; €9.00. SpectroCoin is the cheapest of all the bitcoin debit cards we review here, by 50%, making them very appealing.
Foreign Exchange Fee
If you are to use your SpectroCoin debit card abroad or for a purchase that is different from the currency of your card, you will be charged an exchange fee of 3%. For example, if you have a British Pound card and you use it in Europe for a purchase in Euros, you will be charged a 3% fee on top of the price of the purchase.
ATM Fees
There is a fee to withdraw cash at an ATM, it is the same price for each fiat card. This amount will be charged each time you get cash from an ATM. The fees are as follows: €2.50.
Monthly Fees
SpectroCoin charges users a monthly service fee of €1.00. However, this service fee is not charged if your card is inactive. Your card is considered inactive if it has a balance of zero.
Card Delivery
Shipping of the card is free and after ordering, the physical plastic debit card will be delivered to you within 1-3 weeks. You can express the shipping for a fee and the card will be with you much sooner, between 4-5 business days.
Mobile Apps
SpectroCoin offers both Android and iOS mobile apps, however, these apps are for managing the wallet and exchange areas of your SpectroCoin account, not the debit card.
Security
The SpectroCoin website offers two-factor authentication, which you should set up as soon as you open an account. This adds an extra layer of protection to your account, instead of relying wholly on a strong password. For more information on two-factor authentication, visit our frequently asked questions.
Videos from SpectroCoin
How to order bitcoin debit card?
How to unload bitcoin debit card?
Screenshots from SpectroCoin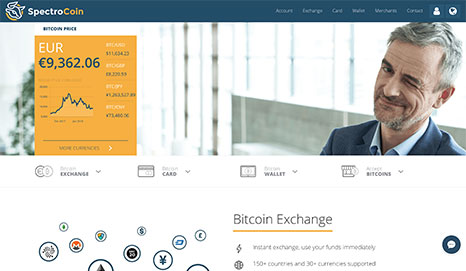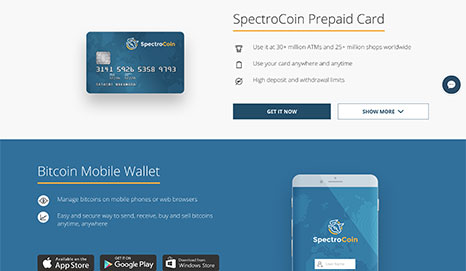 Visit SpectroCoin
Share & Comment
Have you got something to add about SpectroCoin? Have you used them and want to share your experience? Let us know here!