Pros
You have full control of your funds
The wallet is open source
2FA protection
Mobile apps for iOS and Android
Works on Windows, Linux and Mac
Cons
You do not have control over the transactions fees you pay
What is Ledger Nano S?
The Nano S is a small hardware cryptocurrency wallet from the company, Ledger. It is a physical device, rather than an app, a website or a software program. This is known as a 'cold' wallet, you can find out more about hot and cold wallets in our frequently asked questions. This has several advantages; the main one being that it is more secure than a hot wallet, since it is not connected to the internet. This makes it almost impossible to hack.
History
Founded back in 2014, Ledger was launched with just eight employees, each with different backgrounds in security, cryptocurrencies and entrepreneurship. They now have over eighty employees and have headquarters in Paris, Vierzon and San Francisco. The Ledger wallets are sold in 165 countries worldwide and their goal is clear; to create products and services that can safeguard your cryptocurrency assets, for individuals and companies alike.
Coins Supported
The Ledger Nano S currently supports the following cryptocurrencies:
Source Code
The apps that are available for the Ledger Nano S are all fully open source and available on Github. This allows anyone to review and authenticate the source code for themselves and contribute to the development. However, the firmware itself for the Nano S is not yet open source. They have plans for this to become open source in the future.
Recovery and Back Up
If you happen to lose the Nano S, it is stolen or destroyed, you are able to restore your entire wallet and cryptocurrency balance onto a new Ledger Nano S device. You can also restore it onto any BIP39 compatible software wallet such as Mycelium. All you need to do this is the recovery sheet with the twenty four words that are provided to you when you first set up the wallet. Be warned, if you lose the twenty four word combination and the hardware wallet, your cryptocurrency balance is as good as gone. So be sure to keep your recovery sheet somewhere safe! These words ensure that you are the owner of your cryptocurrency balance.
Software
To load your coin balance onto the Nano S wallet, you need to plug it into your laptop or PC. The wallet is used via either a Chrome or Firefox extension. It works on Windows (version 7 and higher), Mac (version 10.9 and higher), Linux or Chrome OS. Set up is easy and quick. The PIN is simple to do and keeps your wallet secure.
Platforms
The Ledger Nano S wallet is available on the following platforms:
iOS
Android
Windows
Mac
Linux
Security
The Ledger wallet is based on a dual chip architecture (ST31/STM32, certification level: CC EAL5+). It is malware proof, as everything is done on the device, rather than the PC or laptop it is connected to. It uses a four digit PIN, which is required each time you connect the wallet to your computer. Your wallet remains decentralized, as your private keys are never held or known by Ledger. For more information on two-factor authentication, visit our frequently asked questions.
Hardware
The Ledger Nano S uses two chips, ST31H320 (secure) and STM32F042, with a certification level of CC EAL5+. The device is a brushed stainless steel and plastic wallet, weighing 16.2 grams. It is about the size of USB pen, measuring 98mm x 18mm x 9mm, when open, and 60mm long when closed. It doesn't need any batteries to operate, since it draws power from the PC or laptop it is plugged into, using the micro USB cable that is provided with the wallet. It has a bright OLED display.
The Ledger Nano S box contents comes with:
The Ledger Wallet
A USB Cable
An Instruction Card
A Recovery Sheet
A Keyring Chain
Conclusion
To conclude, the Ledger Nano S is a great little wallet for anyone looking for a reliable hardware wallet. At €79, it is a little cheaper than the Trezor wallet, which is priced at €89. The keyring is very convenient, and the device is small enough to keep on your keys or to hide it somewhere in your house to keep it safe.
Videos from Ledger Nano S
Ledger Nano S — Overview
Ledger Nano S — Send bitcoins
Getting started with Ledger Nano S - Unboxing
Ledger Nano S — Send ethers
Screenshots from Ledger Nano S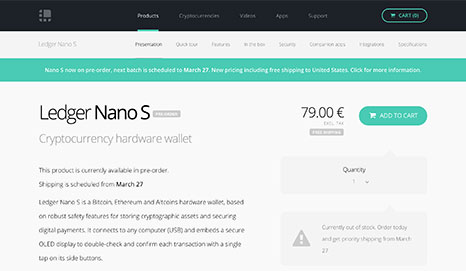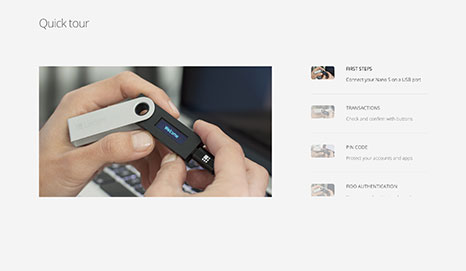 Visit Ledger Nano S
Share & Comment
Have you got something to add about Ledger Nano S? Have you used them and want to share your experience? Let us know here!