Pros
Can exchange many cryptocoins
Allows US customers
Mobile apps for iOS and Android
Cons
Was hacked in 2016
Cannot add funds using fiat
High fees
Registration is required
Verification is required
What is ShapeShift?
ShapeShift, founded by Erik Voorhees, is a cryptocurrency exchange that acts a little differently from the other exchanges we review here. They do not offer any exchange of fiat currencies, like US Dollar or Euro. This means they do not use banks anywhere in their operations. It is a web and API platform, created back in August of 2014, to offer exchanges between bitcoin and other altcoins with speed and efficiency. This is good if you have funds in the crypto world, not so good if you're just starting out and want to buy some cryptocurrency using fiat currency. To see a list of other exchanges that accept fiat currency, check out our exchanges comparison table. They also differ from other sites, as you do not need an account with ShapeShift in order to use it and exchange currency. There is no lenghtly sign up process and no passwords to remember. This allows its users to stay completely annonymous. As of September 2018, Shapeshift requires users to have an account and be verified in order to use its service now.
Currencies Offered
The cryptocurrencies offered on the site are:
Account funding
Unlike other exchanges, ShapeShift do not take your money and hold it in a centralized exchange, therefore no account is needed. This means they hold no private personal information, which keeps their users safe from identity theft and other security concerns. This makes them one of the best exchanges to swap digital currencies quickly.
Commission and Fees
ShapeShift do not charge commission or service fees, they do, however, charge a miner fee. The fees are displayed below, depending on the currency you are exchanging. ShapeShift differ from other exchanges once again, by clearly showing customers who much they will get after the completed transaction, rather than an estimate.
It's worth noting, that if you were to send funds to the wrong address, e.g., BTC sent to LTC wallet, you be charged an 'extraction fee' equivalent to 50 Euros.
Miner Fees
1st Blood
5.8975 1ST
Aragon
1.9757 ANT
Basic Attention Token
8.8898 BAT
Bitcoin Cash
0.0002 BCH
Bitcoin
0.0015 BTC
Bitcrystals
4.0 BCY
Blackcoin
0.01 BLK
Bancor
0.7088 BNT
BitShares
0.5 BTS
Clams
0.001 CLAM
Civic
7.3379 CVC
Dash
0.002 DASH
Decred
0.03 DCR
Digibyte
0.01 DGB
Dogecoin
2.0 DOGE
District0x
57.3151 DNT
Edgeless
3.3459 EDG
Emercoin
0.2 EMC
EOS
0.3557 EOS
Ether
0.002 ETH
Ether Classic
0.01 ETC
Factoids
0.001 FCT
FunFair Token
42.8127 FUN
GameCredits
0.2 GAME
Gnosis
0.0217 GNO
Golem
8.7524 GNT
Matchpool
8.9052 GUP
Komodo
0.002 KMD
LBRY Credits
0.02 LBC
Lisk
0.1 LISK
Litecoin
0.015 LTC
Maidsafe
7.0 MAID
Melon
0.003 MLN
Mastercoin
0.325 MSCN
Monacoin
0.2 MONA
Metal Pay
2.33 MTL
Namecoin
0.005 NMC
Numeraire
0.1768 NMR
Novacoin
0.1 NVC
TenX Token
0.01 PAY
Nubits
0.01 USNBT
Nxt
1.0 NXT
OmiseGO
0.2956 OMG
Potcoin
0.01 POT
Peercoin
0.01 PPC
Qtum
0.01 QTUM
Ripio
15.2853 RCN
Reddcoin
0.01 RDD
Augur
0.0646 REP
iExec
1.3572 RLC
Siacoin
10.0 SC
Salt
0.6712 SALT
Storj
2.7350 STORJ
SingularDTV
19.3 SNGLS
Status
32.0196 SNT
Startcoin
0.02 START
Steem
0.01 STEEM
SwarmCity
1.1098 SWT
TetherUSD
1.1 USDT
Vericoin
0.0002 VRC
Vertcoin
0.02 VTC
Voxels
0.01 VOX
WeTrust
6.4698 TRST
Waves
0.001 WAVES
Wings
4.9195 WINGS
Counterparty
0.1 XCP
Monero
0.02 XMR
NEM
4 XEM
Ripple
0.5 XRP
Zcash
0.0001 ZEC
0x
3.1437 ZRX
Exchange Speeds
Processing an exchange with ShapeShift can take anywhere between thirty seconds and twenty minutes. This is dependent on the amount of traffic on the network. Typically, orders are completed within a few minutes.
Location
ShapeShift is based in Switzerland, but is available worldwide, including the USA. They have servers running in many different countries all over the world, however, they do not have any servers in the USA. Due to regulations, trading in the states of New York and Washington has been blocked for the time being.
Transfer Limits
Transactions have deposit limits that are set by ShapeShift and your exchange will not get processed if you send more than the limit. However, ShapeShift do not publish what these limits are. You can watch a video about increasing your limits on the site below.
Security
Since ShapeShift don't ask for account details, passwords, email addresses, bank account information or anything like that, there is no security concerns for users to be worried about. Other sites require two step verification to secure their accounts, which is a good thing, but not at all necessary with ShapeShift as there is nothing that needs such protection.
Support
The ShapeShift website has an extensive FAQ section, full of everything you could ever think to ask. There is a support area, where users can submit requests. However, users have found this can be quite slow, as there are so many people using the site since the recent boom of cryptocurrency activity. They aim to respond within 48-72 hours.
Mobile Apps
ShapeShift offer both iOS and Android apps, both are free to download. The apps allow you to convert cryptocurrencies, including bitcoin, directly within the app. It provides the same functionality as their desktop site, but is more convenient for users on the go or in a hurry.
Videos from ShapeShift
ShapeShift Membership | How It Works
Smart Contracts: how are they used? | SCHOOL HOUSE BLOCK | ShapeShift Presents
Screenshots from ShapeShift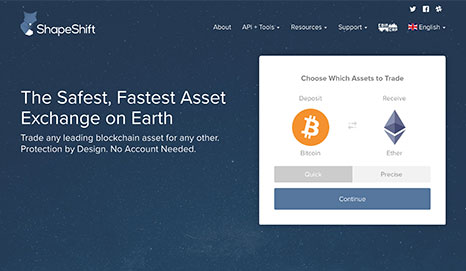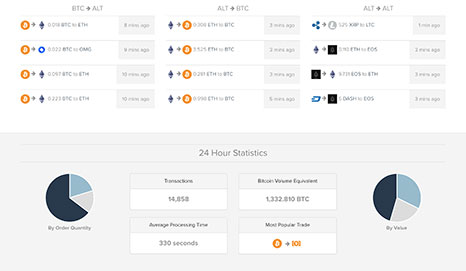 Visit ShapeShift
Share & Comment
Have you got something to add about ShapeShift? Have you used them and want to share your experience? Let us know here!