What is ShapeShift?
ShapeShift, founded by Erik Voorhees, is a cryptocurrency exchange that acts a little differently from the other exchanges we review here. They do not offer any exchange of fiat currencies, like US Dollar or Euro. This means they do not use banks anywhere in their operations. It is a web and API platform, created back in August of 2014, to offer exchanges between bitcoin and other altcoins with speed and efficiency. This is good if you have funds in the crypto world, not so good if you're just starting out and want to buy some cryptocurrency using fiat currency. To see a list of other exchanges that accept fiat currency, check out our exchanges comparison table. They also differ from other sites, as you do not need an account with ShapeShift in order to use it and exchange currency. There is no lenghtly sign up process and no passwords to remember. This allows its users to stay completely annonymous.
Currencies Offered
The cryptocurrencies offered on the site are:
Account funding
Unlike other exchanges, ShapeShift do not take your money and hold it in a centralized exchange, therefore no account is needed. This means they hold no private personal information, which keeps their users safe from identity theft and other security concerns. This makes them one of the best exchanges to swap digital currencies quickly.
Commission and Fees
ShapeShift do not charge commission or service fees, they do, however, charge a miner fee. The fees are displayed below, depending on the currency you are exchanging. ShapeShift differ from other exchanges once again, by clearly showing customers who much they will get after the completed transaction, rather than an estimate.
It's worth noting, that if you were to send funds to the wrong address, e.g., BTC sent to LTC wallet, you be charged an 'extraction fee' equivalent to 50 Euros.
Exchange Speeds
Processing an exchange with ShapeShift can take anywhere between thirty seconds and twenty minutes. This is dependent on the amount of traffic on the network. Typically, orders are completed within a few minutes.
Location
ShapeShift is based in Switzerland, but is available worldwide, including the USA. They have servers running in many different countries all over the world, however, they do not have any servers in the USA. Due to regulations, trading in the states of New York and Washington has been blocked for the time being.
Transfer Limits
Transactions have deposit limits that are set by ShapeShift and your exchange will not get processed if you send more than the limit. However, ShapeShift do not publish what these limits are. You can watch a video about increasing your limits on the site below.
Security
Since ShapeShift don't ask for account details, passwords, email addresses, bank account information or anything like that, there is no security concerns for users to be worried about. Other sites require two step verification to secure their accounts, which is a good thing, but not at all necessary with ShapeShift as there is nothing that needs such protection.
Support
The ShapeShift website has an extensive FAQ section, full of everything you could ever think to ask. There is a support area, where users can submit requests. However, users have found this can be quite slow, as there are so many people using the site since the recent boom of cryptocurrency activity. They aim to respond within 48-72 hours.
Mobile Apps
ShapeShift offer both iOS and Android apps, both are free to download. The apps allow you to convert cryptocurrencies, including bitcoin, directly within the app. It provides the same functionality as their desktop site, but is more convenient for users on the go or in a hurry.
Pros
Lots of cryptocurrencies offered
Offer apps for iOS and Android
Clear fees
Cons
Cannot pay with fiat currency
Videos from ShapeShift
ShapeShift.io's iPhone App (iOS)
Step-by-Step: How to exchange digital assets with ShapeShift.io
Step-by-Step: How to do "Precise" bitcoin and digital asset exchanges on ShapeShift.io
How to Get Higher Deposit Limits for Your Exchange
Screenshots from ShapeShift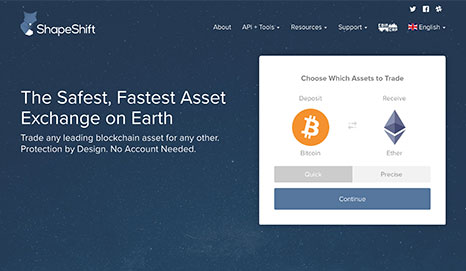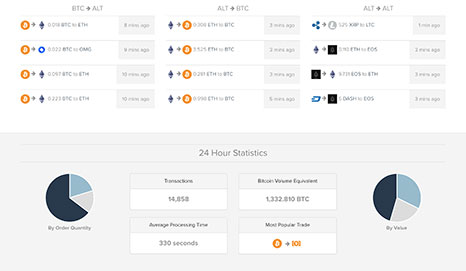 Visit ShapeShift
Visit ShapeShift
Share & Comment
Have you got something to add about ShapeShift? Have you used them and want to share your experience? Let us know here!