Pros
Can exchange many cryptocoins
Allows US customers
Low fees
Can add funds using fiat
Verification is not required
What is Changelly?
Established in 2015, Changelly is a cryptocurrency exchange service, bought to you by a team of cryptocoin enthusiasts who built MinerGate. Their exchange service provides safe and fast transactions anonymously and offers the exchange of lots of cryptocurrencies, these are all listed below.
Rates and Fees
Changelly charges a flat rate commission fee of just 0.5% and gets you the best possible rate on your exchange at the moment the exchange takes place. This is instead of fixing the exchange rates to cover market risks, volatility and costs, which could ultimately cost you more money.

Security
Changelly is a secure and trustworthy exchange service. They do not store deposits, your money is instantly exchanged. Each and every account is protected with 2 factor authentication, this adds an extra layer of security when logging into your account. For more information on two-factor authentication, visit our frequently asked questions. They are also used and trusted by more than 300,000 users, this is growing everyday.
Account funding
If you're buying digital currency on Changelly, accepted currencies are Euro (EUR) and Dollar (USD). You can use Visa or MasterCard to make the payment. There are plans to add Paypal to the list of accepted payment methods. You can pay with other currencies, but it will be converted at the rate of USD or EUR, which could results in fees by your bank or credit card provider.
Restrictions
There are some terms and restrictions that apply to your account the first time you make a transaction with Changelly. After this, there are no restrictions.
For customers from the USA, Canada and Australia, there is a limit of $50 for the first transaction. After four days, this is increased to $100. After seven days, it becomes $500. You may only make three payments in the first week. After one month, all restrictions are removed.
For users in Russia, Ukraine, Belarus, Kazakhstan, Armenia and Georgia, there is a $200 limit for the first transaction. After 24 hours, you may send more, however, there is a first week limit of $2,000 and a first month limit of $10,000.
For the EU and other countries, there is a $100 for the first transaction. After four days, this is increased to $200. After seven days, it becomes $500. There is a limit of six payments in the first week.
Currencies Offered
Videos from Changelly
Changelly Tutorial
Screenshots from Changelly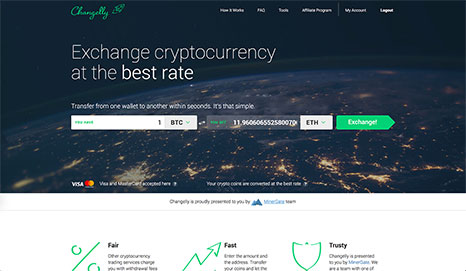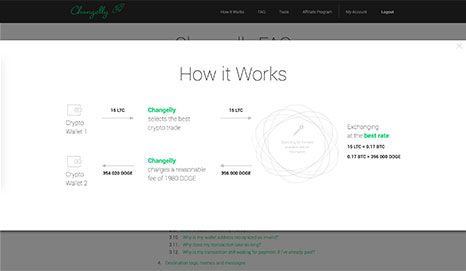 Visit Changelly
Share & Comment
Have you got something to add about Changelly? Have you used them and want to share your experience? Let us know here!