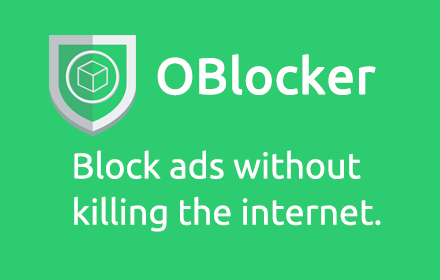 oBlocker launches its beta platform today to allow users to block ads while still supporting websites and content creators they love. oBlocker provides a desktop program that utilizes a small portion of users' unused processing power to mine a cryptocurrency called Curecoin, which is sent to each user's favorite websites.
After undergoing closed alpha testing for the last 4 months, oBlocker has incorporated user feedback and is ready to launch its software for an open beta. oBlocker has partnered with Popper Stopper Pro, one of the most effective ways to block popups and popunders, as its recommended ad blocker. By using both Popper Stopper Pro and oBlocker simultaneously, users can enjoy an ad-free web, protect their privacy, improve their computer's security, while still providing revenue to the websites they visit.
Users' processing power is used to mine Curecoin, with plans for other cryptocurrencies like Monero to be added in the future. Mining Curecoin contributes to protein folding research under Stanford's Folding@Home program, which helps find solutions to diseases like cancer.
In recent years, ad blockers have soared in popularity. The Interactive Advertising Bureau estimates that over 34% of US internet users block ads. According to Pagefair, over 600 million users globally use ad-blockers of some form, costing advertisers 10s of billions of dollars every year. Ad-blocking is a huge issue for the online economy, posing serious threats to ad-based business models of some of the world's largest websites like Google and Facebook.
"As a website owner myself, I've experienced first-hand the negative impact of ad blockers on websites, especially small ones. Having talked to other online content creators, I know that users blocking ads can cost them up to a third of their revenue. That's why I started oBlocker. I wanted to allow users to block ads while still supporting their favorite websites." said Ryan Chang, the founder of oBlocker.
The Popper Stopper Pro team stated, "We're glad to partner with oBlocker so that Popper Stopper Pro users can continue to receive a smooth browsing experience while still supporting small websites they enjoy visiting."
Website: https://oblocker.com
Facebook: http://facebook.com/oblockerhq
Twitter: https://twitter.com/oblockerhq
---